GRANT PARK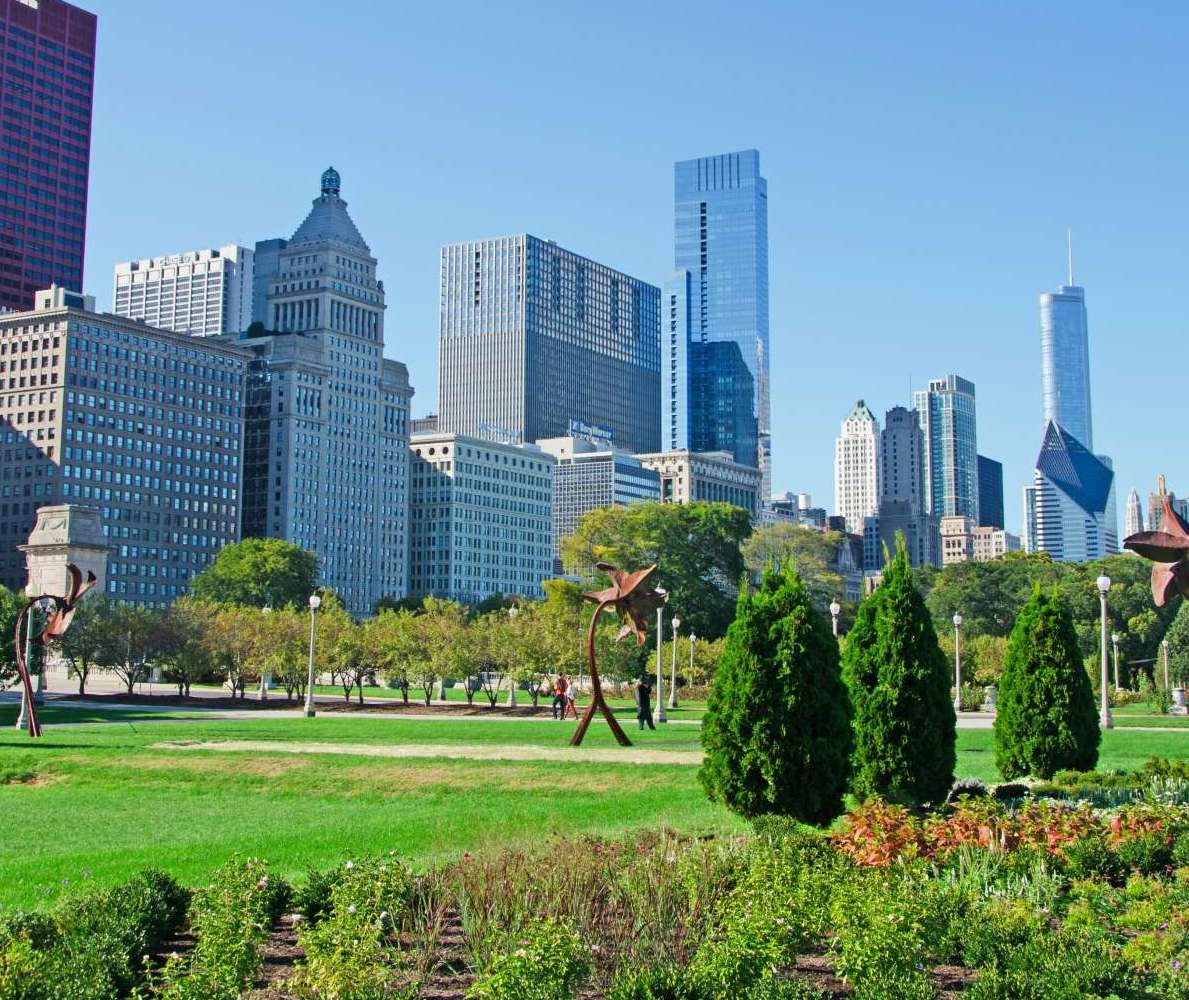 Bordered by two distinctly different neighborhoods, Millennium Park and the South Loop, those looking to enjoy Buckingham Fountain, park views, many concerts including the popular Lollapalooza festival have many choices.
Fun Facts : Buckingham Fountain, dedicated in 1927, is one of the largest fountains in the world. Built in a rococo wedding cake style and inspired by the Latona Fountain at the Palace of Versailles, it is meant to allegorically represent Lake Michigan. From Spring to Fall it features regular water shows and evening color-light shows while during the winter, the fountain is decorated with festival lights.
BROWSE A SELECTION OF GRANT PARK REAL ESTATE BELOW,
& LET US FIND YOUR NEW ROOM WITH A VIEW!
GRANT PARK REAL ESTATE
290 Properties
Address
Beds
Baths
Sq.Ft.
Price(%Chng)
$/Sq.Ft.
On Site
1211 S Prairie Ave #3601
Chicago, IL 60605
3
3
3,449
$2,250,000
$652.36
129 days
1345 S Federal St
Chicago, IL 60605
4
4
4,076
$2,000,000

-11.1%

$490.68
248 days
233 E 13th St #2405
Chicago, IL 60605
3
3
3,300
$1,998,000
$605.45
87 days
1211 S Prairie Ave #3201
Chicago, IL 60605
3
3
2,920
$1,625,000

-3.7%

$556.51
1037 days
1201 S Prairie Ave #5301
Chicago, IL 60605
3
3
3,000
$1,550,000

-1.6%

$516.67
124 days
1201 S Prairie Ave #3301
Chicago, IL 60605
3
3
3,000
$1,495,000

-6.6%

$498.33
550 days
1402 S Federal St
Chicago, IL 60605
4
4
3,250
$1,249,000

-3.6%

$384.31
31 days
1250 S Michigan Ave #2900
Chicago, IL 60605
4
4
3,000
$1,199,000
$399.67
4 days
1201 S Prairie Ave #5102
Chicago, IL 60605
2
2
1,700
$1,120,000

-1.8%

$658.82
108 days
1211 S Prairie Ave #1004
Chicago, IL 60605
3
3
2,210
$1,100,000
$497.74
93 days
1211 S Prairie Ave #1304
Chicago, IL 60605
3
3
2,195
$1,100,000
$501.14
22 days
1433 S Prairie Ave #A
Chicago, IL 60605
4
4
3,800
$1,080,000
$284.21
37 days
1211 S Prairie Ave #4206
Chicago, IL 60605
3
3
2,105
$1,075,000
$510.69
11 days
1201 S Prairie Ave #3902
Chicago, IL 60605
2
2
1,700
$1,050,000
$617.65
110 days
1414 S Prairie Ave #G
Chicago, IL 60605
4
3
3,100
$1,050,000
$338.71
82 days
1211 S Prairie Ave #3606
Chicago, IL 60605
3
3
2,105
$1,050,000
$498.81
50 days
1201 S Prairie Ave #2503
Chicago, IL 60605
3
2
1,746
$1,025,000
$587.06
12 days
1211 S Prairie Ave #1306
Chicago, IL 60605
3
3
2,105
$1,015,000

-9.8%

$482.19
234 days
1211 S Prairie Ave #3006
Chicago, IL 60605
3
3
2,105
$1,000,000
$475.06
9 days
1160 S Michigan Ave #3501
Chicago, IL 60605
3
3
2,460
$999,999
$406.50
32 days
1211 S Prairie Ave #3104
Chicago, IL 60605
3
3
1,833
$975,000
$531.91
42 days
1211 S Prairie Ave #4203
Chicago, IL 60605
2
2
1,722
$930,000
$540.07
237 days
1160 S Michigan Ave #3301
Chicago, IL 60605
3
3
2,460
$925,000
$376.02
24 days
1211 S Prairie Ave #3703
Chicago, IL 60605
2
2
1,800
$925,000
$513.89
11 days
1201 S Prairie Ave #2402
Chicago, IL 60605
2
2
1,700
$899,500
$529.12
65 days
1211 S Prairie Ave #1505
Chicago, IL 60605
2
2
1,470
$850,000

-5.5%

$578.23
158 days
1201 S Prairie Ave #4705
Chicago, IL 60605
2
2
1,639
$825,000

-5.7%

$503.36
95 days
1201 S Prairie Ave #3705
Chicago, IL 60605
2
2
1,639
$812,000

-1%

$495.42
89 days
1417 S Plymouth Ct
Chicago, IL 60605
3
3
2,232
$799,000
$357.97
31 days
1437 S Plymouth Ct #F
Chicago, IL 60605
3
3
2,244
$799,000

-3.2%

$356.06
24 days
1250 S Michigan Ave #2202
Chicago, IL 60605
3
3
2,147
$789,900
$367.91
213 days
1250 S Michigan Ave #2301
Chicago, IL 60605
3
3
2,200
$750,000
$340.91
17 days
100 E 14th St #805
Chicago, IL 60605
3
2
1,685
$739,000
$438.58
32 days
1201 S Prairie Ave #605
Chicago, IL 60605
2
2
1,639
$725,000

-3.3%

$442.34
108 days
1201 S Prairie Ave #1105
Chicago, IL 60605
2
2
--
$725,000
--
58 days
100 E 14th St #1501
Chicago, IL 60605
3
2
1,700
$715,000
$420.59
110 days
100 E 14th St #2301
Chicago, IL 60605
3
2
1,695
$710,000
$418.88
22 days
1235 S Prairie Ave #3509
Chicago, IL 60605
2
2
1,501
$699,900
$466.29
63 days
888 S Michigan Ave #600
Chicago, IL 60605
2
2
2,170
$697,000
$321.20
24 days
1255 S State St #603
Chicago, IL 60605
3
2
1,650
$695,000
$421.21
12 days
1235 S Prairie Ave #2904
Chicago, IL 60605
2
2
1,533
$685,000
$446.84
30 days
1111 S Wabash Ave #2903
Chicago, IL 60605
3
3
2,087
$675,000
$323.43
145 days
1250 S Michigan Ave #2606
Chicago, IL 60605
3
2
1,774
$665,000
$374.86
24 days
1201 S Prairie Ave #5204
Chicago, IL 60605
2
2
1,238
$660,000
$533.12
12 days
1160 S Michigan Ave #3402
Chicago, IL 60605
3
3
1,814
$659,500
$363.56
31 days
1321 S Plymouth Ct #C
Chicago, IL 60605
3
3
--
$650,000
--
51 days
711 S Dearborn St #401
Chicago, IL 60605
3
2
2,870
$650,000

-6.5%

$226.48
43 days
1160 S Michigan Ave #2501
Chicago, IL 60605
2
3
1,571
$650,000
$413.75
31 days
1335 S Prairie Ave #601
Chicago, IL 60605
3
3
2,029
$650,000

-3.7%

$320.35
26 days
1335 S Prairie Ave #610
Chicago, IL 60605
3
2
1,792
$650,000
$362.72
17 days