MICHIGAN AVENUE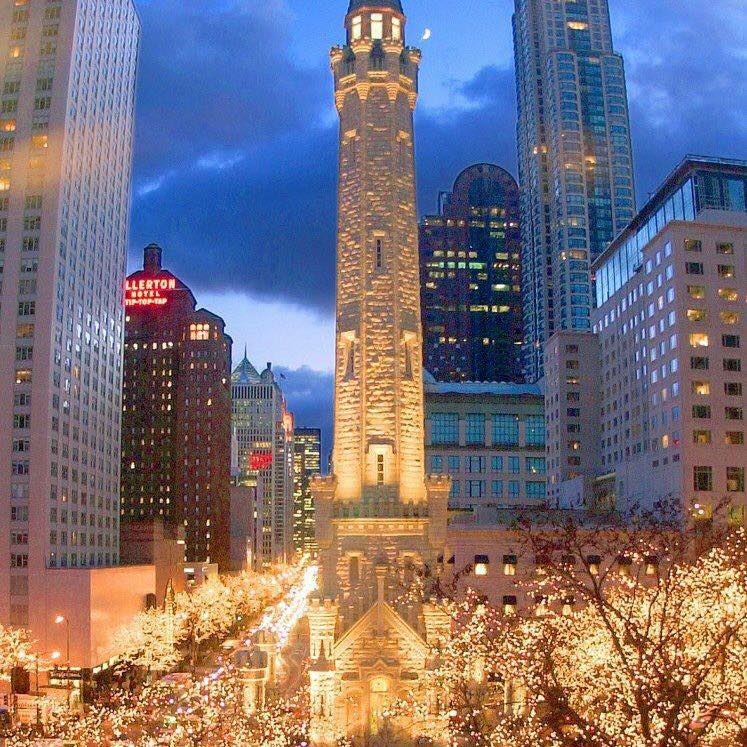 MICHIGAN AVENUE, also known as THE MAGNIFICENT MILE, one of the Greatest Avenues Of The World, is uniquely positioned amidst Chicago's finest, most exclusive neighborhoods.
One of Chicago's most affluent and influential neighborhoods, the Gold Coast is a mix of grand 19th century mansions, luxury high-rise condominiums and renovated gray and brownstone walkups. Here, old and new seamlessly blend together with the connecting thread of wealth and status. Shaded avenues, landscaped walkways and prim wrought-iron fences add to the neighborhood's refined appeal. A stroll among the massive stone structures that once housed many of Chicago's wealthiest and most influential families is breathtaking.
Sharing the block with lofty, contemporary condos are majestic, symmetrical Georgian Revival mansions and impressive, stone-turreted Richardsonian Romanesque townhouses that unquestionably suit the elite, but welcome the attention of any passerby. In fact, Gold Coast neighborhood architecture and history is celebrated by annual walking tours sponsored by various architectural foundations.
OAK STREET:
Equally famous Oak Street, is home to dozens of boutique designers including : Hermes, Vera Wang, Kate Spade, Harry Winston, Geneva Seal, Buccellati and of course Chanel, Dior and Louboutin. Chicago's Gold Coast is hands-down the wealthiest neighborhood in the city.
STREETERVILLE :
A residential pocket located between Michigan Avenue and Lake Michigan – Urban living – sophisticated. Luxurious offices are everywhere – A high concentration of the city's major media firms and advertising agencies as well as many popular shops, top rated restaurants and world class theaters are mere steps away. New and vintage high-rise and mid-rise condominiums or co-ops are the prevalent forms of housing. The Museum of Contemporary Art and Northwestern University's downtown campus and medical center are famous residents here.
MILLENNIUM PARK :
Not quite on the Magnificent Mile, but a hop and a skip across the River bordering Michigan Avenue, MILLENNIUM PARK is home to a wide range of cultural activities including fashion shows and concert series, in addition to a new neighborhood of new construction properties with amazing views such as LAKE SHORE EAST and 340 ON THE PARK.
Chicago's Magnificent Mile is true to its moniker – Perhaps the finest Chicago luxury real estate and world-class shopping is located here. A long time elegant and sophisticated stop for living, working and playing, Michigan Avenue leads you up the finest shopping strip west of Park Ave. – home to Neiman Marcus, Prada, Burberry just to name a few. An expanded list can be found at Water Tower Shops, Bloomingdales, The Shops at Northbridge and The Magnificent Mile.
Keep an eye out while strolling Michigan Avenue and you may also run into Channing Tatum, Shia LaBeouf, Robin Williams, Sarah Michelle Gellar . . . and many more as Chicago has been leading the way in the film industry as the site for Transformers 3, Transformers 4, Chicago Code, Chicago Fire, Jupiter Rising, Dark Knight Rises, Batman Begins, The Crazy Ones and many more . . . Take a pic of your favorite actor or scene, email your photos to : [email protected] and you may be featured in our photo gallery !
In addition to luxury real estate, Chicago and Michigan Avenue are synonymous with being at the forefront of leading trends and innovation, and is home to world-class dining, culture and entertainment.
BROWSE A SELECTION OF MAGNIFICENT MILE REAL ESTATE BELOW,
& LET US FIND YOUR NEW ROOM WITH A VIEW!
MAGNIFICENT MILE | MICHIGAN AVENUE REAL ESTATE
October 1, 2022