THE LOOP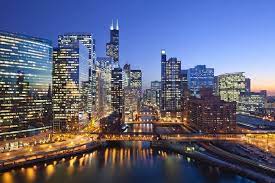 Not too long ago, Chicago's Loop was an area where people came to work. Slowly adding play, but not to live. The 1990s as developers started constructing new high rises and repurposing existing office buildings for residential use. Now, homebuyers can find a wealth of housing options – as well as amenities to complement their daily lives – in the historical center of downtown Chicago, which is bounded on the west and north by the Chicago River, on the east by Lake Michigan and on the South by Congress Parkway.
In addition to luxury condominium buildings interspersed among office high rises, real estate in the Loop also is home to several large-scale mixed-use developments with a variety of housing types, from condominiums and town homes to row homes. These planned communities include amenities like grocery stores and schools that were previously unavailable in the Loop. Home prices in the area are high, reflecting the growing popularity of the Loop as a residential .
The Loop offers an unparalleled opportunity to live among the landmarks that define Chicago, from Grant Park, Millennium Park and Navy Pier to the Theatre District and the Art Institute. Loop residents also have a front row seat to Chicago's marquee events, such as the Taste of Chicago, the Air and Water Show and the Chicago Blues Festival. And they can easily sample downtown Chicago's plentiful fine dining and shopping.
BROWSE A SELECTION OF LOOP REAL ESTATE BELOW,
& LET US FIND YOUR NEW ROOM WITH A VIEW!
LOOP REAL ESTATE
October 1, 2022